Stepping onto the Roughing It In Style showroom floor feels like walking through the door of a beautiful resort home in the mountains. While I love modern and transitional decor styles too, for me nothing beats the cozy feeling of a Colorado ski lodge.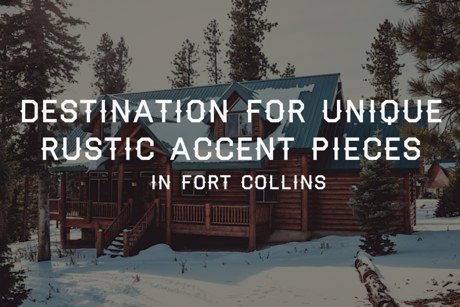 Ben and I met snowboarding, and before we had kids it was something we did together almost every weekend in the winter. Though taking a brief hiatus while our kids are small, we look forward to the days when they will join us on the slopes and look back fondly on the many memories that were made. Snuggling up on a big, comfy couch in front of a fire under a furry blanket with a hot mug after a day on the slopes will always be a pinnacle of comfort in my mind.
As we've been working on redecorating and updating our home, we are keeping a lot of our existing furniture, but I'm always shopping for accent pieces that will add a bit of rustic, Colorado flare to our decor. I stop by Roughing It In Style in Fort Collins at least once every couple of months for inspiration.
You don't have to live in a log cabin to surround yourself with beautiful rustic treasures, nor do you have to completely redecorate your home to add a rustic feel. Here are some of my favorite accent pieces that you'll find in the showroom right now for incorporating that rustic flare into traditional, eclectic, and even contemporary decor.
Sawyer Sideboard
Large Wagon Wheel Chandelier
Heritage Antique Washed Wooden Chair