Ever since they discovered the movie UP, my kids have been obsessed. The sweet storyline of the older couple makes it one of my favorites too, so putting together this fun and whimsical playroom for the littles was a lot of fun.
Part of our son's love for this movie might be because he thinks we sell flying houses for a living. No matter how many times I've tried to explain that we're just regular Realtors, he sees the balloons when we do open houses, and that's all the proof his three year old mind needs!
You can't call yourself an UP themed playroom if you don't have the flying house. Although our whole basement rec room is currently a playroom, I didn't want to paint the entire thing in bright blue with clouds, so I designated a nook for the playhouse and treated it like an accent wall. The nook is somewhat oddly shaped- it's the area under where our breakfast nook is upstairs, which I imagine will one day (far in the future) become a bar area or my basement wine cellar.
The logistics on this were easier than they probably look since the playhouse arrived disassembled in a box, so we carried it down piece by piece and put it together in place. Getting it out of our basement someday will be the hard part, but we don't have to worry about that for years to come. There are a lot of good choices out there for playhouses, but I liked this wooden playhouse by KidKraft because of its compact size, while still being good quality wood and tall enough to accommodate the kids for several more years. I didn't want a plastic playhouse which might have looked cheap, and I did not want something enormous that would take over the whole room. It is spacious enough for both kids to play inside together, and they love the mailbox and working shutters which are perfect for playing peek-a-boo.
Painting the sky mural was a lot of fun. I love to paint, but am not what one would call an artist, so I utilized wall stencils from Cutting Edge Stencils to make sure I got the look I was going for. I didn't want the clouds to be uniform, so I used all three different sizes of their Cloud Chalkboard Stencil(although I used regular interior paint, not chalkboard paint), and was sure to space them unevenly, occasionally use them upside down, and vary the number of paint coats so that some clouds appeared slightly lighter or darker. I also used their Flying Birds Stencil Kit on just one wall for the fun of it. It turned out even better than what I was envisioning and was so easy that I might just have to stencil every wall in our house now. Be sure to enter the $50 wall stencil giveaway at the bottom of this post!
To complete the scene, I went with paper lanterns over the playhouse, instead real balloons which would not be functional, and hung them from a command hook on the ceiling. They were easy to find at the party store, and made this a low-maintance decoration.
I knew I wanted a map to play into the "adventure is out there" saying from the movie, but never expected to find one that was so playful and beautiful at the same time. Discovering the work of Colorado artist, Charlotte Bassin of Wander + Wonder World Maps was an incredible find. Charlotte's original maps are perfect for children's spaces and the idea spurred from this beautiful commissioned piece that she created for her niece's bedroom. The original quilt map, which she crafted directly on wood with origami paper she purchased in Japan, gave our playroom an air of sophistication while tying together the colors and theme of the rest of the design elements flawlessly.
I am captivated by this map and know that it will be a fixture in our home, long after an Up-themed playroom is necessary. While the quilt design lends itself to lively, lighthearted kid's rooms like these, Charlotte makes a variety of maps ranging from minimalist wood burn maps to maps made of metal or pin-board that are perfect for incorporating a worldly feel into more mature spaces. If you're not familiar with her work, I urge you to check out her blogand etsy shop!
On the other side of the basement I set up a little art area next to the kids' large bouncy house. A magnetic chalk board is a fun way for the kids to play artist without a constant piling up of half colored papers, that aren't really worth saving but make me feel like a bad mom if I toss them. I did set up a line with hooks to display some of their favorite artworks that come home from preschool, however, or any special projects that we do together.
The bouncy house was a very generous gift from Ben's parents and has been a lifesaver through the winter and on days when the weather isn't cooperating to wear the kids out! They love practicing flips from the bouncy house into the attached ball pit and scattering balls all over the floor.
Here's a view of the whole room, as well as a few detail shots. I want to point out the really fun aviator hats just like the ones the kids wear in the beginning of the movie when they meet for the first time. Naturally my kids needed those for watching the movie in their new Up-themed playroom!
If you've been following any of my other room transformations you're probably looking at that golden oak trim and wondering what it's still doing there. Thanks for pointing that out! I don't love it, but I've decided I can live with it because it's in the basement and we have so many other, bigger projects going on right now. A few years down the road, our kids will be big and way too cool to play with toys, and at that time we're going to redo this space again. So white trim is on the same timeline as my wine cellar. Yep, you heard me right. Ben is never getting a man-cave down here!
$50 Wall Stencil Giveaway
Cutting Edge Stencils is giving away a stencil up to $50 in value to one of my readers!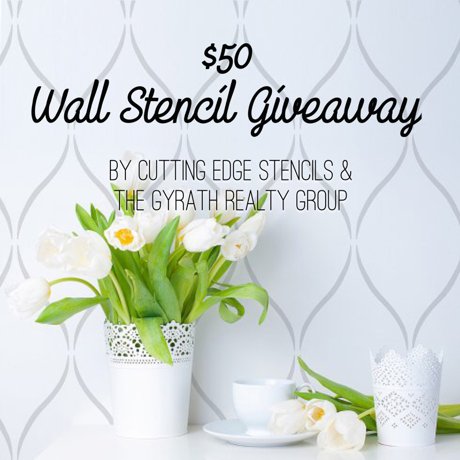 . . . . . . . . . . . . . . . . . . . . . . . . . . . . . . . . . . . . . . . . . . . . . . . . . . . . . . . . . . . . . . . . . . . . . . . . . . . . . . . . . . . . . . . . . .
To enter the giveaway:
There are three steps to enter...
Step 1) Like Gyrath Realty Group on Facebook
Step 2) Like Cutting Edge Stencils on Facebook
Step 3) After reviewing the Cutting Edge Stencil's Product Catalog, comment on this post stating which stencil you would love to win AND tagging a friend who loves interior design!
The winner will be selected by random draw at 5 pm on May 30. We will get in touch with them promptly for a delivery address for the stencil. If we get no response after one week we will move on to the next winner. Winner must be a resident of Colorado.
. . . . . . . . . . . . . . . . . . . . . . . . . . . . . . . . . . . . . . . . . . . . . . . . . . . . . . . . . . . . . . . . . . . . . . . . . . . . . . . . . . . .